Exhibition


Lines Upon Rhythm by Dodit Artawan
Private view: 2 December 2022 (18.30-20.30)
03.12.2022 | 14.01.2023
---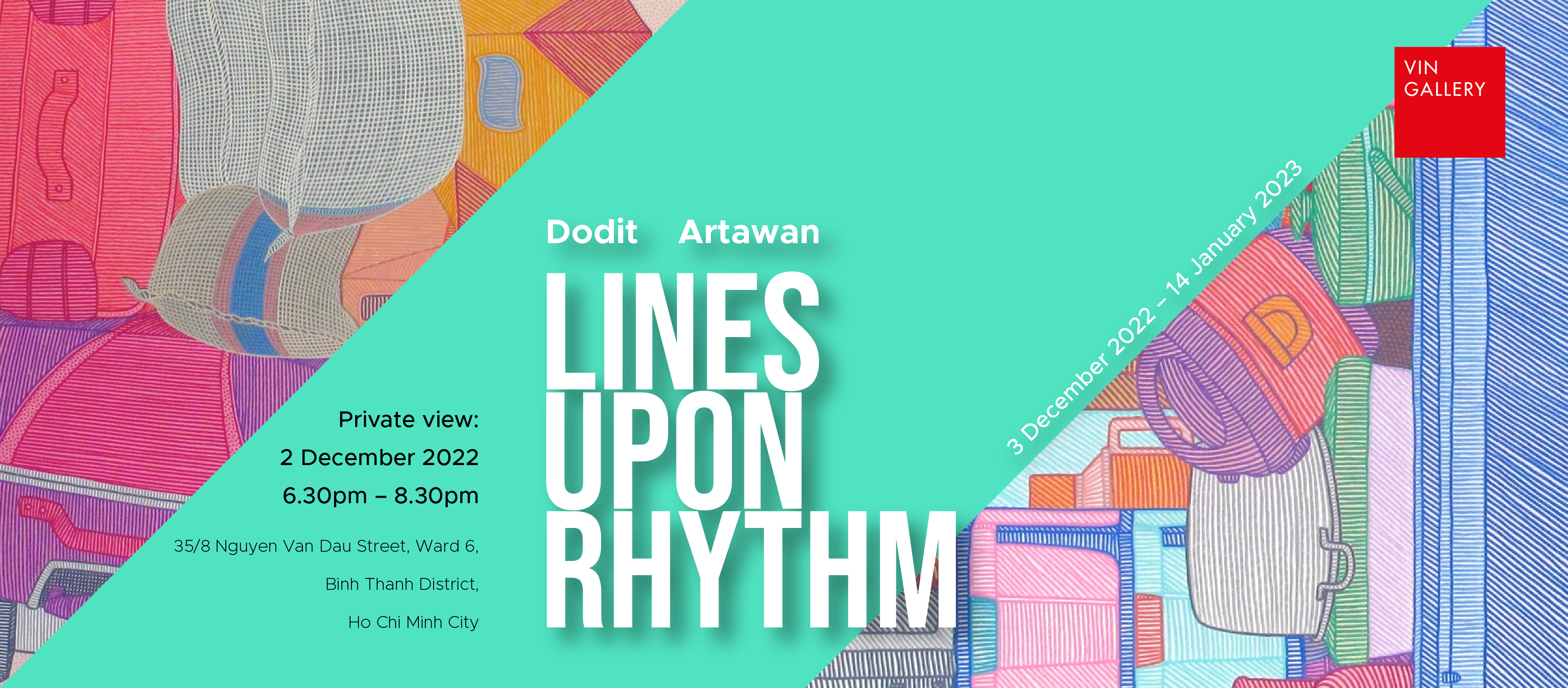 Vin Gallery is pleased to welcome you to "Lines Upon Rhythm" by Dodit Artawan. He is a Bali-based artist whose focus is on breaking from the dominance of traditional Balinese art on the contemporary art scene to seek new expressions for contemporary art in Bali.

"Lines" will be the main feature in this show, to present how he's adopting and appropriating the lifestyle of contemporary society closely related to consumerism. Creating lines with rhythm and drawing with bright colours while at the same time, he's playfully criticising and celebrating contemporary society often becomes irrational when lured by consumerism. And the rhythm composition of colours and lines will reenact fantasies that capitalism has done to their products.

Join us in Private View for "Lines Upon Rhythm on 2 December 2022 from 18.30 until 20.30.
Register here:

https://forms.gle/R3y265dqwVTRJWaX9
Art Fairs
ART SG, Singapore
12 - 15 January 2023
Bui Cong Khanh
---
To begin our chapter in 2023, we are excited to share the news that Vin Gallery will be participating in the next edition of ART SG at Marina Bay sands. In this occasion we will be presenting artworks by Bui Cong Khanh, a Vietnamese artist who often reflects the complex interwoven history of Vietnam, examining its resilient, yet destructive dance between colonial occupation, political independence and economic progress.

For more information:

https://artsg.com/exhibitor-list-2023/
Art Fairs
Art Basel, Hong Kong
21 - 25 March 2023
Ngoc Nau
---
Following our thrilling start next year, in March Vin Gallery will be participating in Art Basel Hong Kong. This round, we will be coming with artworks from Ngoc Nau. In her works, Ngoc Nau explores the controversy surrounding what traditional value are, highlighting the multiple types of abuse of power to gain wealth and looks into the psychology of humans to adap to scientific development. Her art practice is concerned with the social and cultural phenomenon of modern humanity.

For more information:

https://www.artbasel.com/hong-kong/the-show