---
La mémoire dans la peau
Frédéric Dialynas Sanchez

12.03.2021 | 29.04.2021

---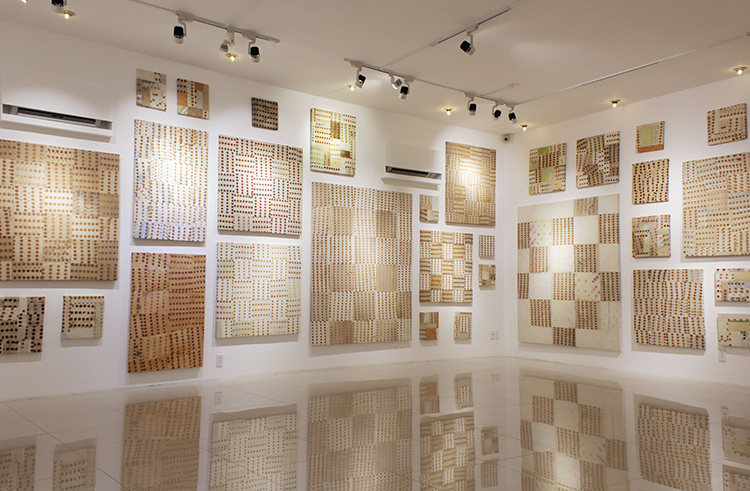 Vin Gallery proudly present 'La mémoire dans la peau' by artist Frédéric Dialynas Sanchez. Showing in the latest project is both a personal journey exploring his Vietnamese heritage and reappropriation of post-war memories and its contemporary afterlife, which presented in geometric abstract painting. He first visited the Ho Chi Minh City Museum in 2012 and was fascinated by the way some of the war artifacts in the collection had been recreated by Vietnamese people into new objects for everyday use.

The fabric itself stands as a witness to the war, but also the ingeniously crafted and adapted DIY necessities of post-war scarcity transformed into objects for everyday use. Sanchez was intrigued by its versatility and its contemporariness as fashion. The journey of searching and creating this body of work is a metaphor for how people are still finding new ways to (re)constitute their realities even decades after the war. Choosing the language of abstraction is also Sanchez's way of refusing to impose his own authorial narrative and letting us, the viewers, feel the texture, space, light, and decide how to interpret and craft our own narratives.




Frédéric Dialynas Sanchez (born in 1983, in Auxerre, France) lives and works in Ho Chi Minh City. He is both a painter and a sculptor. This is in Hanoi, where he had his first solo show in 2006, that he started to practice geometric abstract painting, inspired by the signs of the everyday life in Vietnam.

Grounded in abstraction field, his work takes various forms and involves multiple techniques (patchwork, weaving, ceramic, assembling, welding, collage, engraving on laquer painting...), while raising the questions of collective identities and memories.

His work have been shown in the exhibitions of Olivier Mosset's art collection: «Portrait of the Artist as a Biker» and « The Artist as a Collector », which took place at CNAC of Grenoble ("Le Magasin", 2009), at the « Museum of Fine Arts of La Chaux-de-Fonds » (2010), and at the « Museum of Contemporary Arts of Tucson » (MOCA) in Arizona (2010/2011).

Recently, he has pursued his researches as part of some Artist In Residency programs: « PRACTICE » (Chinatown, New York, 2017), « La Casa de Velásquez « (Madrid, 2018), and « Villa Saigon » (Ho Chi Minh City, 2019).