---
Code*art==marvelous

KWIT

25.09.2020 | 07.11.2020

---


"[M]uch of the innovation today is not achieved within the bubble of fine art, but by those who work in the industries of popular culture - computer graphics, film, music videos, games, robotic and the Internet"
Jon McCormack, 2003


Over the centuries, art and technology were born out of the human desire to express oneself and understand the world. Though arts don't seek to be in control and technology is one of human manifestation against nature, both worlds are a wonderful creation of the human imaginative minds. In this debut solo show at Vin Gallery, KWIT propose a body of works experimenting two different processes and methods. For the series of digital print works, they were created merely by algorithm while the series of acrylic and ink on Dzó paper were made by the artist's interpretation of 'algorithm' which includes elements such as humidity, time, the surface tension of water and colour particles… KWIT believes that the most basic "system" would help us go back to the origin of the universe through algorithm. It is where the world will be full of bursting bits which they will move and dance together. They both result in beautiful colourful abstract patterns that might purposely confuse the audience based on the real and unreal in a digital and non-digital world. The digital projection of the works invites the audience to participate and immerse in the marvelous world of code art.

"Through generative art (an expressive medium of science and art), I want to search for the pieces of origin and put together a whole picture of the origin of the universe. In my own opinion, it's an endless journey filled with magic and surprises. Seeking the origin of the universe is also a search for my true nature as well as anyone of us," stated KWIT.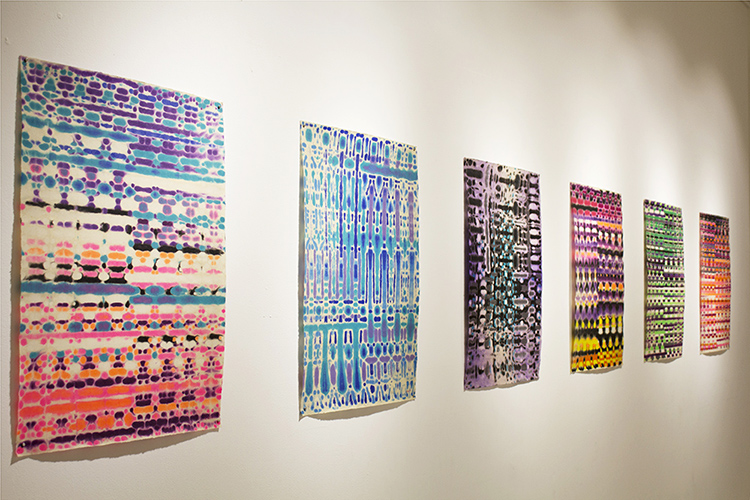 Regardless of rule and control, the chance elements are inevitable in those series of works. Like the chance element of John Cage's influence over Fluxus, KWIT experimented with different colours interacting on Dzó paper by folding and dripping colour method. Similar to Cage's philosophy that the
process and journey in the making of artwork are more significant than the finished work, KWIT created a visually playful flow of colours and forms. The series of digital print code art is KWIT's tribute to waves of light and the vibration frequency of the colours. The marriage of art and technology has emerged in the Western world since the late 60s and 70s and has proven themselves an establishment of diverse artistic mediums and themes. However in the Vietnamese contemporary context, art and technology, regardless of the growing young audience for both are still functioning in their universe, are still something very new. Let's enter the world of Code*art = = marvelous and experience it for yourself.

KWIT remained anonymous intentionally as an attempt to let his art speak for itself rather than being bothered by his biographical background.