Art Jakarta
Jakarta, Indonesia
30 August - 1 September 2019
---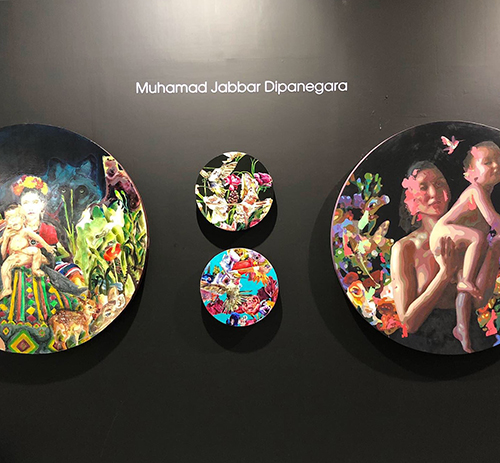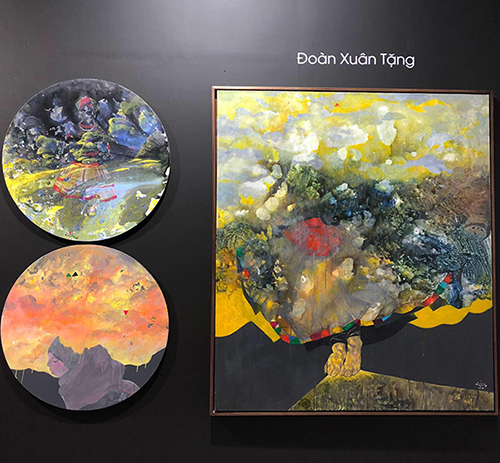 We are thrilled to present four South East Asian based artists they are, Đoàn Xuân Tặng, Karine Guilllermin, Lê Quý Tông and Heri Purwanto.

Artists who are in the clouds but with feet firmly planted in the ground are Heri Purwanto and Đoàn Xuân Tặng. Đoàn draws his influence from spending an extensive time visiting the Northwesterly parts of Vietnam, a place scarcely touched by industrialism. His figurative paintings are influenced by the many ethnic groups that reside in rural Vietnam and captures the peoples' mysticism and wildness in colourful depictions in clouds and distorted realities.

Heri Purwanto paints the effect of the development of industrialism in his hometown. From a time where the fields surrounding his home were being developed, he asks the question if people had no more land to live and thrive, where would they live? His answer, the clouds. Purwanto's cloudscapes are bright and colourful, painted with his own sense of humour, homes built upon clouds that are strung up and weighted to the ground by rocks as a constant, maintaining a connection to earth.

Lê Quý Tông stands out with his strong representations of events from 1989. Based from found images of political revolutions in our collective history, emphasizes the pattern of continual adoption and disregard of ideologies as they inherently become obsolete with time. With the recognition of this pattern, questions emerge: why must the cycle goes on? Is the imposing of new ideologies necessary to abandon old ones? How much freedom are we capable of exercising if we continue to build humanity around ideologies?

In contrast Ho Chi Minh City based artist Karine Guillermin find solitude in nature. She is both prolific and intensive in creating her pictorial and sculptural gardens. During her solo exhibition at Vin Gallery in 2018 entitled 'Upopo O Hana Spirit' she drew upon nature and meditation creating painted canvases with meticulous motifs of nature-imagined. Alongside an installation of over 6,000 pieces of ceramic delicately and thoughtfully placed on a bed of soil emerges her literal garden.

Vin Gallery presents these four artists for their contrasting ideologies and talents. These artists represent the most promising international artists who come from diverse cultural backgrounds who promote our aim of bringing this cross-cultural hybridization to international platforms.